James Charles is an award-winning makeup artist, model, and social media personality who is one of the highly loved and praised celebrities in Hollywood. Alongwith his own struggle he is widely known for working with various Hollywood celebrities like  Kylie Jenner, Katy Perry, Demi Lovato Iggy Azalea and many more. Just being at the age of 22, he is able to be a first-ever male ambassador for the cosmetic brand CoverGirl. From his successful career, he is able to won various Awards including Teen Choice Award, Shorty Award for Breakout YouTuber and People's Choice Award for Beauty Influencer.
| | |
| --- | --- |
| Born Name | James Charles Dickinson |
| Popular As | James Charles |
| Profession | Make-up Artist, Social Media Personality, Youtuber |
| Date of Birth | May 23, 1999 |
| Birth Place | Bethlehem, New York, U.S. |
| Zodiac | Gemini |
| Parents | Christie Dickinson and Mr. Dickinson |
| Age | 22 |
| Height | 5ft 9inch |
| Weight |  62 Kg |
| Nationality | American |
| Eyes color | Dark Brown |
| Hair color |  Dark Brown |
| Net worth |  $22 million |
| Sexual orientation | Gay |
| Relationship status | Single |
| Children | NA |
| Married to | Unmarried |
| Boyfriend | Not Dating |
Introduction
Who is James Charles?
James Charles is a popular YouTuber, make-up artist, and social media personality. His full name is James Charles Dickinson. Charles is popular for making various makeup-related content as well as different pranks and challenge videos on his YouTube channel.
He has become very famous for his reputation of involving with popular celebrates such as Rihanna, Iggy Azalea, and Kylie Jenner. Despite the popularity, he has been involved in various controversies in his time of YouTube stardom. His long-time co-worker Tati Westbrook accused him of being disloyal and holding her payments and James also made derogatory racist comments to African people as well.
Despite the controversy, he has a massive fan following on YouTube, Instagram, and his TikTok account. James Charles has just over 50 million social media followers worldwide.
Biography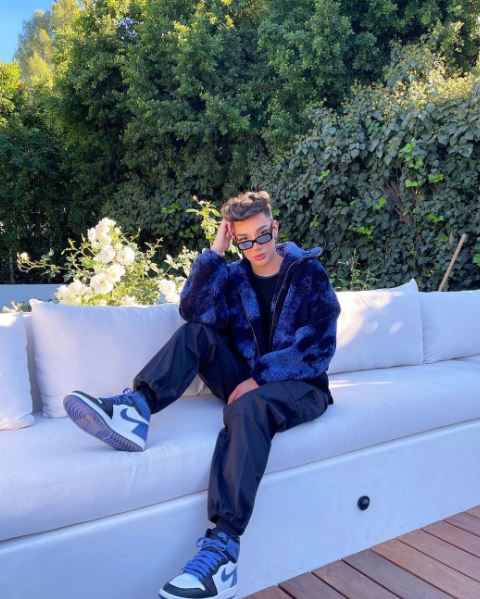 Where was James Charles born?
James Charles was born in Bethlehem, New York. His father's name is Christine Dickinson and Skip Dickinson. Growing up, James was very interested in make-up and female dress and accessories. This life led him to get plenty of bullying while he was in high school.
Regarding education, James went to Bethlehem Central High School and got his graduation in 2018. When his friend asked him to do make-up during a school program, Charles did such a great job that many people congratulated him. James Charles got very motivated so he continued to do make-up and hairstyling. Finally, he got a decent job in make-up and styling and hence began to work professionally as a make-up artist and hairstylist.
James Charles has a height of 5 feet 9 inches tall and has a weight of about 60 kg. He has lovely brown eyes and pointy long brown hair. James also has one sibling named Ian Jefferey who is also a model and Instagram star from the USA.
Career
James Charles started his career as a make-up artist and hairstylist and started to work as a professional. However, he always wanted to become a YouTuber so he started his channel in 2015. His makeup post and beauty video went viral which gave Charles millions of views.
A year later James Charles became the first male to be inducted as a spokesperson in Covergirl magazine. After going viral and amassing millions of fans he released his own brand name Sisters Collection which included female dresses, apparel, and accessories that can be brought from the website.
In 2019, James was invited to the UK to open the second store for Morphe Cosmetics. After doing make-up on Iggy Azalea, James Charles also made the appearance on Azalea's music video Sally Walker. After becoming so popular in his career as a make-up artist, and Youtuber, James Charles acted as a host for YouTuber original series Instant Influencer.
Controversy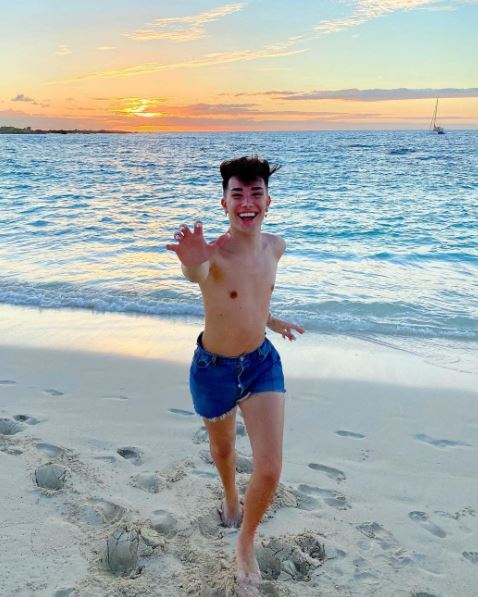 Charles has experienced harsh criticism for various things he has said and done since turning into a web-based media big name. In 2017, when he was only 17 years of age, the teen tweeted a joke that was hostile to Africans and Ebola. He later apologized.
After two years, in 2019, Charles said in a meeting that he was not completely gay and said he has discovered various ladies and men alluring. A few groups guaranteed his remarks were transphobic and he got some reaction, to which he was sorry. Maybe his greatest discussion to date elaborate previous long-term colleague Tati Westbrook. Westbrook accused James of asserting he controlled individuals' sexuality and utilized his distinction and ability to play with individuals' feelings. The video she made was a 45-minute video on her YouTube page in May 2019.
When the video was posted, James broke a YouTube record: he lost more than 1,000,000 endorsers in only 24 hours. Following the searing video, he lost a great many supporters. Afterward, Charles transferred a brief video reacting to her cases and saying 'sorry' His video got negative criticism from his fans and immediately got quite possibly the most disdained recordings on YouTube.
Charles at that point transferred a video named "NO MORE LIES." At 41 minutes in length, the video jumped profound into the show and gave proof to completely disprove a portion of the cases that Tati had made. Fans turned around to supporting Charles and therefore, Tati lost large numbers of her YouTube fans while Charles recovered a considerable lot of his once more. Tati later eliminated the first scorching video from her channel and the next year said she had been compelled to post the video by Shane Dawson and Jeffree Star.
Relationship
Is James Charles gay?
Yes, James Charles is gay and have disclosed his sexuality to his fans and audiences very early in his YouTube career. According to James, he came out as gay to his parents when he was just 13 years old.
However despite the popularity James Charles has never dated anyone. There was a rumor that he was involved with Noah Beck but they never confirmed their relationship to anyone. James have always wanted to have a boyfriend who understands him but he has never found the love of his life to date.
Hence James Charles is currently single at the moment.
Net Worth
What is the net worth of James Charles?
James Charles is a popular YouTuber, make-up artist, and social media influencer. He has rejuvenated the term beauty YouTube content in the YouTube industry. She has worked with very popular celebrities such as Izzy Azalea, Kylie Jenner, and Rihanna.
James has gathered himself has just over 50 million social media followers. However he has been involved in many controversies which has certainly halted his popularity and brand deals as well.
Currently. James Charles has a net worth of approximately $22 million as of 2021.
Social Media
Check out the Instagram page of James Charles here, and the YouTube page here. He is one of the most followed celebrities in Instagram with followers of 26.8M. Similarly, on his you tube channel named James Charles he has 25.3M subscribers. To know more about his personal life and to be updated about him, you can go through his social media profile and follow him.